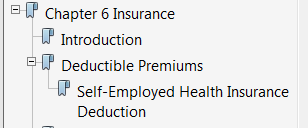 Self  Employed  and S Corp owners may deduct the  entire Health Insurance Premium from Gross Income on line 29 of their   1040 Tax Return(Line 29 1040)  This includes the:
the owner – taxpayer,
the owner's – taxpayer's spouse,
the owner's – taxpayer's dependents, and'
any child (152(f)(1)) of the taxpayer who as of the end of the taxable year has not attained age 27.

(HR 4872

– Obama Care 

§

162(l)(1) 

§

401(c)(1))
Provided that:
You are not eligible to participate in any subsidized health plan maintained by any employer 26 USC 162 (I) (2) (b)
The insurance plan must be established under your business per IRS  Publication 535 pdf page 18   Take the deduction on line 29 of Form 1040.
For more clarification of what "under your business" means  – email us to discuss Tax Facts ONLINE – Subscription Question # 328
Obamacare Tax Subsidy?
If you receive Obamacare Tax Credits, check out  Publication #974 Premium Tax Credit,   Revenue Procedure 2014-41
.
INSTANT FREE Quotes & Benefits for S. Corp and Self Employed
With at least ONE non spousal w-2 employee  ♦  Owners ONLY
 IRS Publication 502(all Medical Expenses)  Insurance Premiums