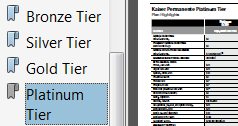 Kaiser is often considered the leader in HMO – they are like the Xerox of HMO's,  they have been selected as the ACA – Obamacare "Bench Mark" plan.  It's the name that people know. Kaiser has excellent rates and great service.  Kaiser compensates us to help you at no additional charge. Our authorized agent code is #5268.   Its a win win for everyone.
January 2018 portfolio now available
Updated plan rates and highlights and benefit summaries for our bronze, silver, gold and platinum plans are now available on account.kp.org. To see an overview of the 2018 portfolio, be sure to also check out our renewal information page. And to help you and your clients understand changes in cost shares from 2017 to 2018, including child dental, check out our updated plan comparison charts.
Also, to comply with new federal regulations, member level child age bands will change for new individual, family, and small business plans starting January 1, 2018. This change will apply to existing plans upon their renewal, and it may affect rates for members younger than 21.
Updated forms
You can now enroll new groups with January 1, 2018 or later effective dates with our 2018 New Group Application on our forms page. You'll also find an updated version of our 2018 Plan Add Change Request form there to help your groups make mid-year plan changes. And to ensure that you're using current versions of all of our forms, download the latest version of our forms matrix.
Swifter enrollment and sales with relaxed criteria
Our simplified enrollment rules make it easier than ever to sell new small groups. For small businesses with October through January 2018 effective dates:
Groups don't need a DE 9C if they have 6 or more subscribers.
Startup companies only need to provide 4 weeks of payroll.
Q4 checklist
Use this checklist to avoid many of the most common mistakes that lead to processing delays.
Avoid service delays
To help your clients avoid service delays, be sure to submit enrollment applications, account change forms, and member terminations to the California Service Center at [email protected]. For more information, see our service tip on California Service Center email best practices.
Online account management
Your time is valuable and our account management tools can help you handle your clients' health coverage according to your schedule. With online account services, you and your clients can:
Access account status
Enter enrollments and terminations.
Maintain membership information
Use online bill pay
Get a preview of online account services and use our online account services user ID request form to request access.
Other tools to support you
2017 Plan Highlights for Kaiser
Kaiser Group Website – Don't forget, there is no additional charge for us to help you
Employer – Employee – Forms & Applications (Scroll Down when you get there)
Cal Choice  allows employees to pick whichever Insurance Company or HMO they want
10 Reasons to pick Steve Shorr Insurance
Get instant rates and benefits, by using our Complementary, no obligation quote engine, key in your census and have the computer do it or send us an excel spreadsheet 
Resources
Point of Service plan – allowing you to visit PPO Doctors with the PHCS Network –  Provider Search
Click here for a simple explanation of the Four Metal Tiers and the 10 essential benefits.  Please note that ACA – Obamacare does NOT include Adult Dental, Long Term Care or Disability Income.
Dental Plans – Southern CA – Delta Care
Child Pages
Kaiser Preventative & Wellness Programs