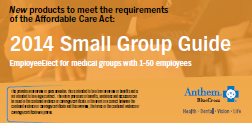 This is the
HISTORICAL
page for Blue Cross Small Group.
Click here for current information.
Many of the links are broken.  If you don't find what you need, email us [email protected]
Anthem Blue Cross 2019 Small Employer Product Guide
Small Group Rates
Rate Guide for plans effective 1/1/2018
Rate Guide for plans effective 4/1/2018
The 2017 Small Group Guide, along with other helpful 2017 materials, can be found on Easy Renew.
As Blue Cross – Anthem Authorized Agents we can  help you get coverage at no extra charge .  
Free no obligation Quotes  or just email your census to [email protected]
2014 Small Group Guide 
2014 Easy Renew –
Plan Benefit Summaries as a brochure
Plan Benefit Summaries  2014 as a brochure
2014 notice to employers word.doc
about.our.plans
mapping
underwriting.guidelines
ACA Plan Summaries 2015: ca.sgplans.anthem.com/#
ACA Plan Summaries 2016: plan-summaries.anthem.com/sobdps/
ACE Plan Comparison Old Plan to New Plan or among new plans Tool: www.anthemplancomparison.com/ca
Employer Sales Brochures on Anthem Website
Get your Federal Mandated  Summaries of Benefits 2014, 2015 & 2016 (SBC) –  Be careful on selecting the search criteria or email us for help.
Summary of Benefits Explanation ♦  fact sheet –
Please view the other pages on our website, using the menu above,  showing the benefits of a health plan for yourself and employees.  Like the Full Tax Deduction under Section 106 and retaining the best employees, keeping them healthy (presenteeism) to help you in your business.
DirectAccess (PPO) — Allows members to go directly to any in-network provider. There is no need to choose a Primary Care Physician (PCP) or get a referral to see other doctors.
Guided Access (HMO) — Requires members to choose a Primary Care Physician (PCP); a referral is required to see other doctors.
Federal Mandated  Summaries SBC Be careful on selecting the search criteria
Summary of Benefits Explanation   fact sheet –
2016 Forms – Historical?  Double Check
Related & Current Pages
2013 Information
Employee Elect Rev 7.2013 (44 Pages)   Provider  Finder     Instructions for Grandfathered or 2013 plans
2 pages   you may Choose
ANY Blue Cross Small  Group   Plan
Early Renewal – (Plan Anniversary)   Opt in Form  FAQ's Rev 6.2013  10.2013 FAQ Update   Potential Impact of Obamacare on Premiums New Definition of Employer – just about eliminates Self Employed…   –   Take more time to check out the Options under Health Care Reform
Keep your current medical plans and benefits until later into 2014.
Lock in new rates on those plans for a full 12-months.
Get additional time to evaluate your coverage options under the new PPACA guidelines.
Select PPO Network
HMO Explanations
Benefits Brochure


Matrix ONLY
not approved as footnotes deleted for
viewing magnification
Blue Cross Benefits
 is a new Simple Way to provide Medical Coverage for  2 – 50 employees.  This is a new plan for businesses wanting affordable plans and easy eligibility. With five targeted plans priced right for cost-sensitive businesses, employer contributions as low as 25% or $50, and participation requirements as low as 60%.  BeneFits can help you offer health coverage for the first time or continue offering coverage in a time of rising costs
Employee Choice 5 + Employees


along with another carrier's HMO
Blue Cross Small Group Customer Service (800) 627-8797.
Other Customer Service Contact Info
Quick Links
Employer Sales Brochures
Plan Detail Brochures
Group Forms & Applications
Blue Card
Individual & Family
Dental
Vision
Worker's Compensation 
Provider Finder
Broker of Record Letter

Blue Cross Employer Web Site
Group Administrator Manual  OLD 2011
Employee Elect
Group Administrator Manual
Employee Elect  2014

Historical Video's  
These are archived on www.Archive.org and may take a long time to load.
"Mix N Match"  Video Introduction
Benefits of a Group Health Plan Video
Blue Cross (Anthem) is the Best Video
AGENTS Benefits Brochure
2014 Group Administrative Manual
Bookmarks
Broker ONLY
Website Tech Support  888.268.4361
AGENTS Benefits Brochure