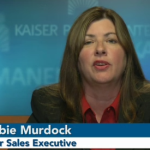 Historical
IRS Notice 2011-36 request for comments Mandate Penalty
San Diego Union Tribune 2.5.2013 Pay Fine or Not?
Most EmployER's will keep Group Plans Chicago Tribune 3.7.2013
What is Employer Health Requirement   kff.org  4 page pdf explanation 2009
Blue Shield FAQ's 8.25.2014 13 pages
final.regulations.mandate.2.10.2014
IRS Notice 2012-58 full time employees for Mandate
See also AB 1083 page 51
(b) All carriers writing, issuing, or administering health benefit plans
that cover employees of small employers shall be subject to this chapter if
any one of the following conditions are met:
(1) Any portion of the premium for any health benefit plan or benefits
is paid by a small employer, or any covered individual is reimbursed, whether
through wage adjustments or otherwise, by a small employer for any portion
of the premium.
(2) The health benefit plan is treated by the small employer or any of the
covered individuals as part of a plan or program for the purposes of Section
106 or 162 of the Internal Revenue Code.
steveshorr.com
L.A. Times 6.1.2013 AB 880 Medi Cal Gomez reports that firms over 500 may be penalized if any workers go on Medi Cal.
With all the delays, what is the actual Effective Date?
Mandate delayed till _________  for under 100 lives.   Please note that while the mandate for employers over 50 lives has been postponed one year, there is still a requirement to inform employees of the availability of group coverage and/or their options in Covered CA – the Exchange.
The Internal Revenue Service (IRS) has announced transition relief for employers with 50-99 full-time plus full-time equivalent (FTE) employees in 2014 that meet specific eligibility requirements. For employers that meet these conditions, no Employer Shared Responsibility payment (penalty) under section 4980H (a) or (b) will apply for any calendar month during 2015. For qualifying employers with non-calendar-year health plans, this applies to any calendar month during the 2015 plan year, including months during the 2015 plan year that fall in 2016.  In order to be eligible for this relief, an employer must certify that it meets the following conditions: click here to read more.